WELCOME to Learn Blues Guitar Now!
---
The site is dedicated to guitar education. If you are trying to find out about Pete Madsen's shows, cds, and  musical projects go to: petemadsenguitar.com
------------------------------------------------------------
Lessons and Classes contact: Hey Pete!
Fall 2021 Guitar Classes
A note about classes: this next session of classes will all be held on-line on zoom. It's important to have a reliable internet connection. I hope to start doing in person classes again soon (a guy can hope!). I am doing private lessons (one on one) in person and on zoom.
MUSIC THEORY FOR GUITARISTS II
Six Wednesdays starting September 22
7-8:30pm (PST)
zoom online invite only
Price:$150
Folks really enjoyed Music Theory I so I decided to continue the discussion about how scales and chords are built, with song examples and exercises meant to stimulate your theoretical inclinations. Part of this class will be review — last session we worked primarily in the key of G; this session we will work primarily in the key of E. By covering similar material but with the emphasis in relocating to a different key we will reinforce the prior material while learning something new. This will also provide a chance for new folks to hop on the theory train, and not feel left behind.
Topics Covered:
The Major scale and Chords
a) major scale: intervals
b) melodies
Chords:
a) Triads: major, minor, (Augmented and diminished )
b) 7th chords: major, minor, dominant
c) diatonic chord changes (chords that fit a particular key)
The Circle of Fifths
A great tool for understanding diatonic chord theory
CAGED System
A review of the CAGED system — great tool for navigating the entire guitar neck!
Songs:
Walk of Life (Dire Straights)
Born to Run (Bruce Springsteen)
Sweet Home Chicago (Robert Johnson)
Knock on Wood (Otis Redding)
Hey, Jude (Beatles)
Lessons and Classes contact: Hey Pete!
---
BLUES AND SLIDE GUITAR IN OPEN TUNINGS
Six Saturdays starting September 11
12:30-2pm (PST)
Zoom online invite only
Price: $150
The focus of this class will be on playing fingerstyle blues guitar in open tunings with an emphasis on bottleneck slide techniques. Songs will include:
Dark was the Night, Cold was the Ground (Blind Willie Johnson) open D
God Moves on Water (Blind Willie Johnson) open D
Boogie Woogie Dance (Tampa Red) open D
Paris, Texas (Ry Cooder) open D
Big Mama's Door (Alving Youngblood Hart) open G
Texas Honeymoon (Pete Madsen) open G
Lessons and Classes contact: Hey Pete!
---
SURF GUITAR
Six Saturdays beginning September 11
10:30-noon (PST)
Zoom invite only
Price: $150
Since my band Buzzy Frets (a blend of surf, rockabilly and blues instrumentals) will be playing its first gig in several years, and since I often get requests for this class I thought I would do another round of surf guitar classics before the the light of summer fades and gives over to fall darkness and hauntings.
Songs will include:
Walk Don't Run
Pipeline
Mr Moto
Surf Rider
Wipeout!
The Rumble
Intoxica
A Shot in the Dark
The Munsters Theme
Apache
Lessons and Classes contact: Hey Pete!
---
Beatles (Fall)
Six Thursdays starting October 14
7:30-9pm
zoom online only
Price: $150
The Beatles are back! Well, the class where I teach Beatles songs is back. It's time to Get Back to where we once belonged. There is Something about that sound that I Will never forget, and makes me Feel Fine; and after A Hard Day's Night it always feels good to play more Beatles. We will learn the guitar parts for several Beatles songs including:
I Will
Back in the U.S.S.R.
And Your Bird Can Sing
Hey Bulldog
If I Needed Someone
I'll Follow the Sun
In My Life
She Loves You
Lessons and Classes contact: Hey Pete!
---
 TrueFire
update August 11, 2021
Speaking of TrueFire, I just posted a couple of new lessons on playing a monotonic bass in the Key of E, as well as a rumba in the style of Snooks Eaglin (great New Orleans guitarist). You can check out the channel for free and if you like it you can stick around and learn a bunch of fingerstyle blues, open tunings, and slide guitar for only $9.99 a month: TrueFire
Check out my True Fire channel: access to lots of TABS, videos and acoustic blues guitar education. The focus is on fingerstyle blues. Learn to play:
• alternating bass
• monotonic bass
• slide guitar
• open tunings
• Lots and Lots of songs!
There over 200 videos and over a 150 TABS
Pete's Fingerstyle Blues Academy
I also teach private lessons at my studio in Berkeley. E-mail or call me for rates and availability.
---
---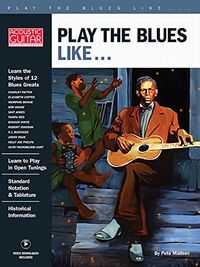 This book shows you how to play in the style of 12 different blues and blues-inspired artists, such as: Robert Johnson, Charley Patton, Skip James, Alvin Youngblood Hart, Memphis
Minnie, and many more. The book was written in conjunction with Acoustic Guitar magazine and published by Hal Leonard.
---
WHAT PEOPLE HAVE TO SAY ABOUT PETE MADSEN'S TEACHING:

I'm a beginning guitar player and have been Pete's student for a few months and wanted to write him up here because I couldn't imagine having found a better teacher. I tried a few other people before going to Pete and the difference is amazing. While most guitar teachers know how to play, Pete also knows how to teach.
He's great at explaining things, great at showing technique, he sends an audio recording of each lesson to your email address (a HUGE help), and teaches you songs that you want to play. In addition to all this his rates are good and he's a cool, easy-going, guitar-loving guy…
--private student

looked forward to the class every week. Even though we were at different skill levels, Pete provided each of us with personal attention which inspired us all to practice. It was fun and rewarding to see myself (and all the other students) improve over the period of the class. Highly recommended!
Bob, student from class


Pete Madsen's blues guitar classes at the Freight are just great! You learn a lot, and it is incredible fun. I honestly cannot get enough!
– student from class


i been playing for quite a while but not correct finger picking cant sink so this is nice and clear teaching i too think this is one of the best thanks bro
– youtube comment

Thanks for the good video on_ your blues lesson. You explained clearly and broke it down just enough keep up the blues lessons friend God bless

jo bro you helped me so much understand more about_ fingerpicking and syncopation. please keep on teaching man, your one of the best around…
--youtube comment




Took Pete's Acoustic Blues class.......it was everything I hoped for. He really helped me wrap my head around the fingerpicking that had eluded me for years....thanks again!
I'm looking forward to studying with him again in the future.
-- student from class